Cakes are much more than just a sweet treat. They're a symbol of togetherness, celebration and joy. 
There's something magical about sharing a slice of cake with loved ones, be it for a birthday, a wedding, or any other special occasion. It brings people together and creates memories that last a lifetime. 
Every time we take a bite of a delicious cake, we're reminded of the happy moments we've shared and the people who were there with us. 
At Thank Goodness Foods, we understand the significance of cakes, and we're proud to offer a range of delicious and wholesome options that not only taste great but also bring people closer together.
Alongside our range of ready-to-order cakes we delight in crafting custom creations for those extra-special moments – and that's what this page is about. If you're looking for the standard range please go HERE.
If you're looking for our standard range of cakes...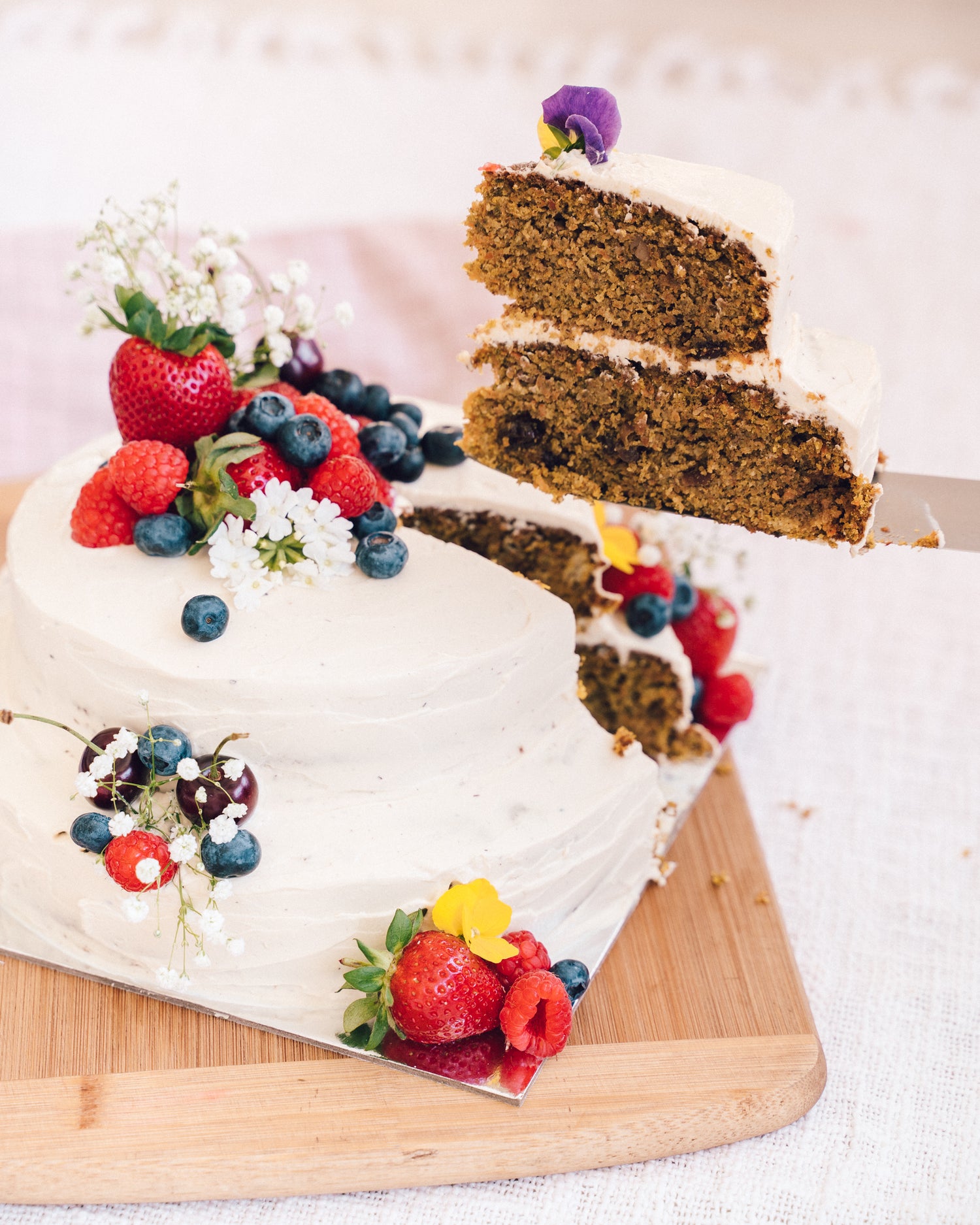 Custom Creations
From three-tier wedding numbers coated in edible flowers, berries and gold, to complex custom piping, special decoration requests and more – our team will do our best to bring your baked dreams to life.
Order a Custom Cake
DISCLAIMER
We don't use buttercream. Thank Goodness isn't your standard powdered-sugar-and-butter bakery – we work predominantly with whole-food ingredients and all of our cakes are refined-sugar free and gluten-free. Many of them are also vegan. 
This means we're not going to be able to achieve the elaborate piped roses and cursive lettering you might want, and that's okay! What we can offer are wholesomely delicious cakes which burst with flavour, texture and natural beauty.
The Process
1.

If you'd like to order a custom cake, you'll be asked to complete a brief questionnaire. Please answer the questions with as much detail as possible; doing so will allow us to give you an accurate quotation.

2.

If we're satisfied with the questionnaire, we'll send you a quote right away. If not a member of our team will give you a call to finalise any details. If you're a questionnaire whiz but would like a call anyway, then don't worry! Just request one after we've sent you the quote.

3.

Et Voilà! We set about mixing, baking, blending, coating, piping and decorating your creation. Ready for delivery on the special day.